Richards, Layton & Finger Attorneys Accepted into LCLD Fellowship and Pathfinder Programs
February 22, 2022
Firm News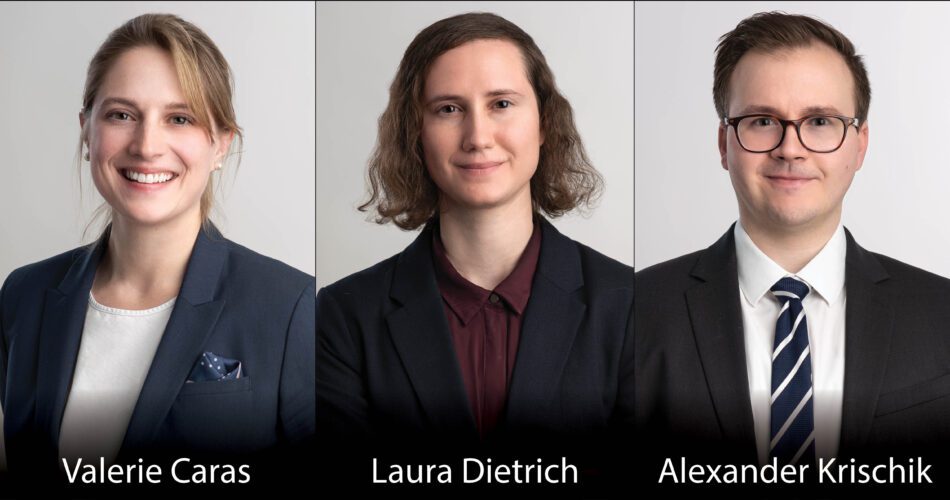 WILMINGTON, Delaware (February 22, 2022) – Richards, Layton & Finger is proud to announce that Laura Dietrich has been accepted into the 2022 Leadership Council on Legal Diversity (LCLD) Fellows Program, and Valerie Caras and Alexander Krischik have been accepted into the 2022 LCLD Pathfinders Program. The LCLD developed these programs to recognize diverse attorneys and to serve as a platform for the attorneys' continued professional growth. The Fellows Program, designed for mid-career attorneys, and the Pathfinder Program, for early-career attorneys, offer tools and strategies focused on professional and personal development, relationship-building, and leadership training.
As a member of the LCLD, Richards Layton actively supports the organization's goal to create a more diverse and inclusive legal profession in the United States. The firm participates in the LCLD's 1L Scholars Program, under which Richards Layton hires, for its summer associate program, first-year diverse students who share the firm's dedication to furthering the inclusion of underrepresented groups in the legal profession. Richards Layton attorneys also participate in the LCLD's Success in Law School Mentoring Program, serving as mentors to diverse 1L students.
"We are thrilled that Valerie, Laura, and Alex have been chosen to participate in these prestigious LCLD programs," says Doneene Damon, president of Richards Layton and the firm's LCLD representative. "They have distinguished themselves through their exceptional work at our firm as well their engagement in the community, and I know this experience will enhance their already-impressive professional development."
Valerie Caras focuses her practice on commercial and intellectual property litigation in Delaware's state and federal courts. Prior to joining Richards Layton, she clerked for the Honorable Matthew W. Brann, United States Judge for the Middle District of Pennsylvania. In law school, Valerie was a judicial extern to the Honorable Kent A. Jordan, United States Circuit Judge of the Court of Appeals for the Third Circuit, and the Honorable Susan E. Schwab, United States Magistrate Judge for the Middle District of Pennsylvania. She was editor-in-chief of the Villanova Law Review and received the Hyman-Goodman Award for academic and extracurricular achievement.
Laura Dietrich concentrates on matters involving the formation, structuring, operation, and dissolution of Delaware limited liability companies and partnerships. She advises clients in a wide variety of transactions, including structured finance transactions, investment funds, joint venture transactions, restructurings, cross-border transactions, acquisition transactions, and financing transactions. She also analyzes contractual interpretation and fiduciary duty issues under Delaware law. In law school, Laura served on the editorial board of the Boston College Journal of Law & Social Justice. She is named on The Best Lawyers in America Ones to Watch list.
Alexander Krischik focuses on corporate and commercial litigation in Delaware's state and federal courts, including the Court of Chancery and the Delaware Supreme Court. He handles disputes involving corporate governance, corporate control, fiduciary duties, books and records demands, appraisal demands, contractual issues, alternative entities, and other commercial matters. Alex clerked for Vice Chancellor Zurn in the Delaware Court of Chancery.  In law school, he argued before the U.S. Court of Appeals for the D.C. Circuit as part of the University of Virginia's Appellate Litigation Clinic. Alex is listed among The Best Lawyers in America's Ones to Watch.
About Richards, Layton & Finger
Delaware's largest law firm and one of its oldest, Richards, Layton & Finger helps sophisticated clients navigate complex issues and the intricacies of Delaware law. We advise global companies, business partnerships, leading financial institutions, local businesses, and individuals across a wide range of practices, including corporate law, alternative entities, commercial law, bankruptcy and restructuring, and litigation.