Four Richards, Layton & Finger Attorneys Named on Benchmark's 40 & Under Hot List
July 22, 2021
Firm News| Commercial Litigation| Corporate & Chancery Litigation| Fiduciary Litigation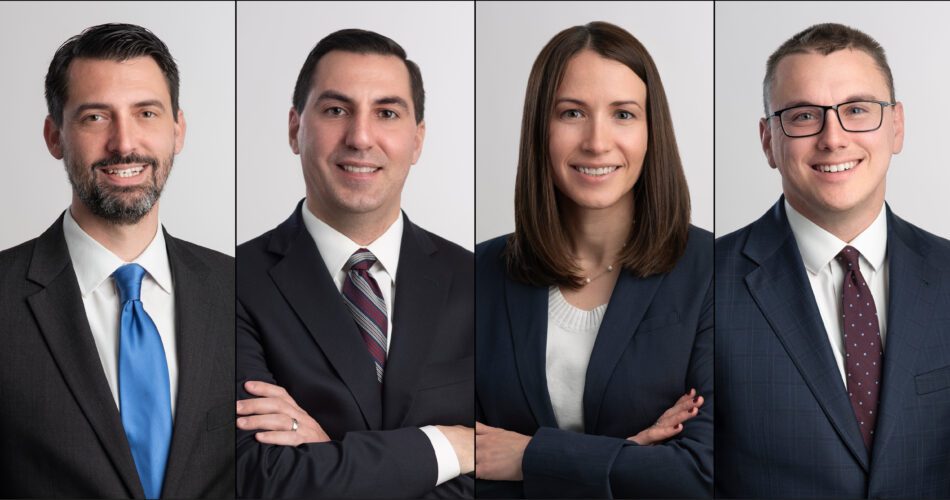 WILMINGTON, Delaware (July 22, 2021) – Richards, Layton & Finger directors Robert Burns, Kevin Gallagher, Susan Hannigan, and Travis Hunter have been named on the 2021 Benchmark Litigation 40 & Under Hot List.  Benchmark recognizes the "best and brightest litigators" aged 40 and under who were involved in some of their firms' most noteworthy matters and earned praise from their clients and peers.  With four honorees, Richards Layton has more attorneys listed on the 40 & Under Hot List than any other Delaware firm.
Burns, Gallagher, Hannigan, and Hunter have worked on many of the most significant, high-profile cases arising in Delaware.  They have been involved in complex appraisal matters, contractual disputes, high-value mergers and acquisitions, intellectual property and trade secrets disputes, fiduciary duty claims, corporate governance and control issues, and other commercial disputes.  These talented lawyers have represented a wide variety of business entities and individuals in Delaware's state and federal courts, as well as in arbitration proceedings throughout the United States.
About Richards, Layton & Finger
Delaware's largest law firm and one of its oldest, Richards, Layton & Finger helps sophisticated clients navigate complex issues and the intricacies of Delaware law.  We advise global companies, business partnerships, leading financial institutions, local businesses, and individuals across a wide range of practices, including corporate law, alternative entities, commercial law, bankruptcy and restructuring, and litigation.