Richards, Layton & Finger Attorneys Accepted into Leadership Council on Legal Diversity Fellowship and Pathfinder Programs
March 5, 2021
Firm News| Labor & Employment| Corporate & Chancery Litigation| Commercial Litigation| Commercial Transactions| Limited Liability Company & Partnership Advisory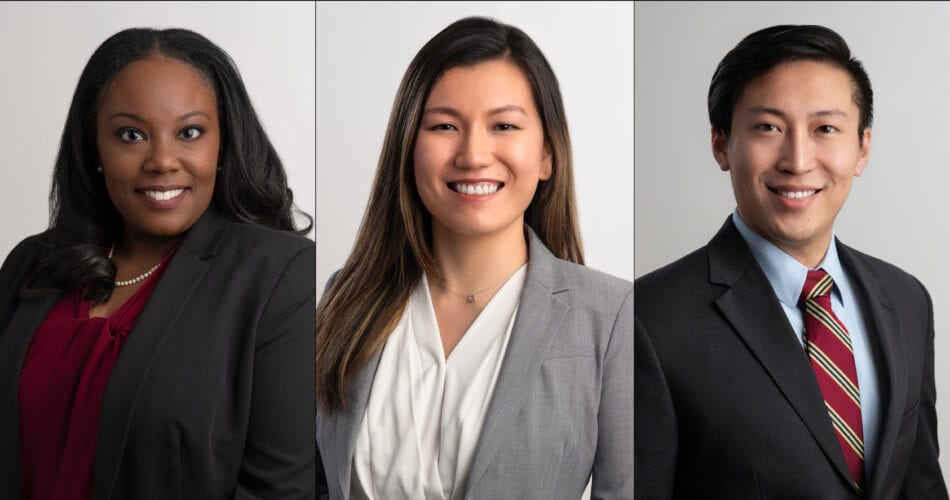 WILMINGTON, Delaware (March 5, 2021) – Richards, Layton & Finger is proud to announce that Lori Brewington has been accepted into the 2021 LCLD Fellows Program, and Angela Lam and Frank Sun have been accepted into the 2021 LCLD Pathfinders Program. The LCLD developed these dynamic programs to recognize diverse attorneys and serve as a platform for their continued professional growth and development. The Fellows Program, designed for mid-career attorneys, and the Pathfinder Program, for early-career attorneys, offer tools and strategies focused on professional and personal development, relationship-building, and leadership training.
As a member of the LCLD, Richards Layton actively supports the organization's goal to create a more diverse and inclusive legal profession in the United States. The firm participates in the LCLD's 1L Scholars Program, under which Richards Layton hires first-year diverse students who share the firm's dedication to furthering the inclusion of underrepresented groups in the legal profession for the firm's summer associate program. Richards Layton attorneys also participate in the LCLD's Success in Law School Mentoring Program, serving as mentors to diverse 1L students.
"We are so proud of Lori, Angela, and Frank," says Doneene Damon, president of Richards Layton and the firm's LCLD representative. "These associates have distinguished themselves through their fine legal work, their dedication to our firm and our clients, their engagement in the community, and their potential for leadership. We're honored that they will be among the select group of diverse attorneys who have earned the opportunity to participate in these prestigious LCLD programs."
Lori Brewington represents corporate and business clients in labor and employment matters throughout Delaware. She provides employment advice on major transactions as well as on a broad range of employment issues, and assists clients before federal and state agencies and courts in employment and discrimination disputes. Lori also trains managers and employees on compliance with evolving employment laws. Her pro bono work includes providing legal advice to Delaware nonprofits and serving as a child attorney for neglected and abused children.
Angela Lam concentrates primarily on litigation in the Delaware Court of Chancery and the Delaware Supreme Court involving corporate governance, corporate control, fiduciary duties, and contractual and commercial disputes. She also has served as a child attorney representing abused, neglected children in Delaware's family court. In law school, Angela was a member of moot court, the trial team, and the Journal of Race, Religion, Gender and Class, and she served as president of the Asian Pacific American Law Students Association.
Frank Sun focuses on commercial transactions, providing advice on the formation, structuring, and operation of Delaware corporations, limited liability companies, and limited partnerships. He also assists clients with choice of law issues and the creation and perfection of security interests under Article 9 of the Delaware Uniform Commercial Code. Frank was a panelist at Cornell Law School's 2020 BLSA/LALSA/NALSA professional development boot camp, and he volunteers with Big Brothers Big Sisters of Delaware. He is fluent in Mandarin.
About Richards, Layton & Finger
Delaware's largest law firm and one of its oldest, Richards, Layton & Finger helps sophisticated clients navigate complex issues and the intricacies of Delaware law. We advise global companies, business partnerships, leading financial institutions, local businesses, and individuals across a wide range of practices, including corporate law, alternative entities, commercial law, bankruptcy and restructuring, and litigation.