Richards, Layton & Finger Chooses New Leadership Team
July 1, 2022
Firm News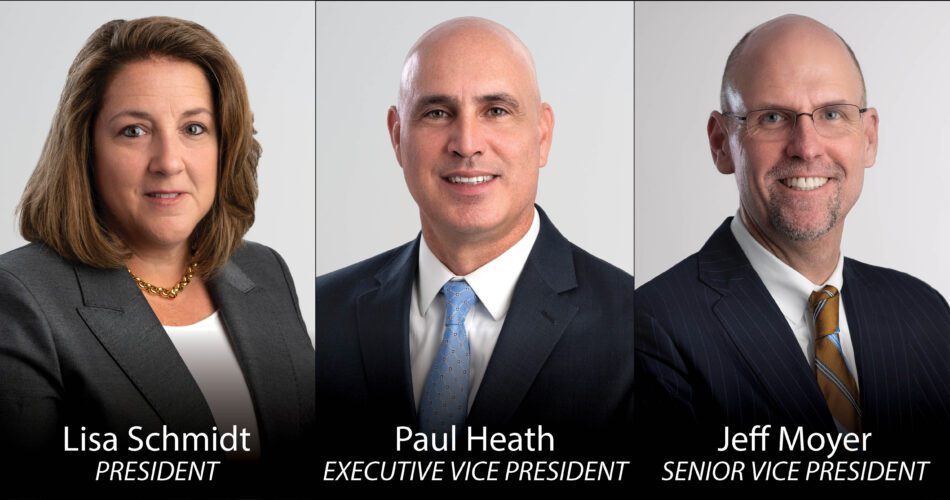 WILMINGTON, Delaware (July 1, 2022) – Richards, Layton & Finger, Delaware's largest law firm, has elected Lisa Schmidt as president and Paul Heath as executive vice president of the firm. Jeffrey Moyer has been appointed to serve as the firm's senior vice president. Ms. Schmidt, Mr. Heath, and Mr. Moyer assume their new roles on July 1, and will each serve a three-year term.
"Richards Layton has long been known for its extraordinary lawyers and its leadership in the Delaware bar, and we are honored to be a part of this tradition of excellence," said Ms. Schmidt. "We look forward to serving our firm and upholding its enduring commitment to our clients, to each other, and to our community."
Lisa Schmidt focuses her practice on advising and representing Delaware corporations, their directors, and other constituencies in complex corporate litigation. "Incredibly responsive and very proactive" (Chambers USA), she has successfully litigated numerous corporate control, corporate governance, appraisal, and contractual disputes in the Delaware courts. Lisa also advises corporations, their directors, and special committees on corporate governance and fiduciary duties. She is co-chair of the Federal Securities Institute, and she serves on the Leadership Advisory Council of the Ronald McDonald House of Delaware. Lisa is a senior fellow of the Litigation Counsel of America, and has been recognized in Chambers USA, The Legal 500, The Best Lawyers in America, and Super Lawyers.
Paul Heath practices in the areas of bankruptcy, insolvency, and creditor's rights, focusing on the representation of debtors, secured creditors, purchasers, committees, and other parties in chapter 11 cases. He has served as lead counsel in several large chapter 11 cases and as co-counsel in numerous significant chapter 11 matters. Praised for his "top-notch knowledge and expertise" (Chambers USA), Paul serves as vice chair of Richards Layton's Bankruptcy & Corporate Restructuring Department as well as the firm's new executive vice president. He is named in Chambers USA, in The Best Lawyers in America, and as a Delaware Today Top Lawyer.
Jeff Moyer focuses his practice on commercial and intellectual property litigation. He has represented some of the world's leading technology companies in intellectual property and licensing disputes in Delaware's state and federal courts. A "talented lawyer with great judgment and client service" (Chambers USA), Jeff has also litigated some of the largest civil cases brought in the Delaware Superior Court. In addition to serving as the firm's senior vice president, Jeff is vice chair of Richards Layton's Litigation Department. He is listed in Chambers USA, IAM Patent 1000, The Best Lawyers in America, Benchmark Litigation, Super Lawyers, and Delaware Today.
About Richards, Layton & Finger
Delaware's largest law firm and one of its oldest, Richards, Layton & Finger helps sophisticated clients navigate complex issues and the intricacies of Delaware law. We advise global companies, business partnerships, leading financial institutions, local businesses, and individuals across a wide range of practices, including corporate law, alternative entities, commercial law, bankruptcy and restructuring, and litigation.