Richards, Layton & Finger Elects New Directors and Counsel
July 1, 2022
Firm News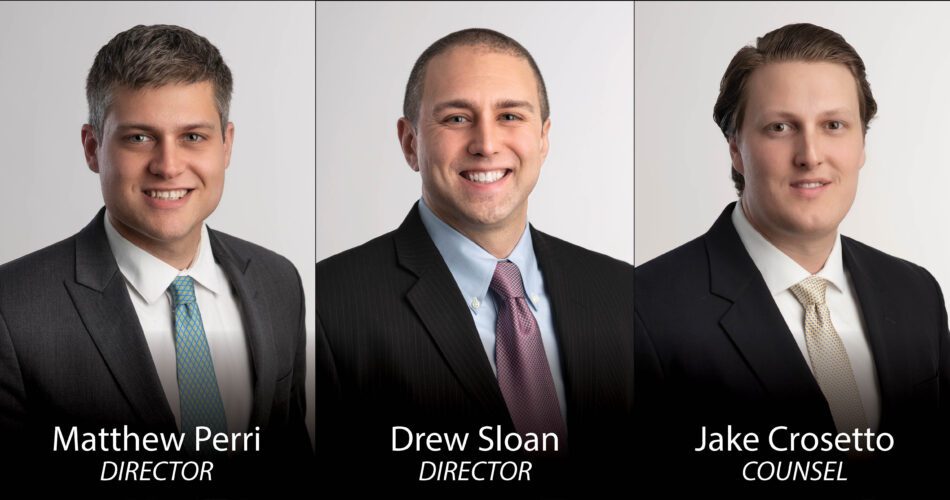 WILMINGTON, Delaware (July 1, 2022) – Richards, Layton & Finger is pleased to announce its election of attorneys Matthew Perri and Drew Sloan as directors of the firm and Jake Crosetto as counsel of the firm.
"We are proud to promote these exceptional lawyers," said Lisa Schmidt, president of Richards, Layton & Finger. "Backed by their skills, experience, and commitment to excellence, they each provide our clients with the outstanding service and top-notch legal counsel that are the hallmarks of our firm."
Matthew Perri focuses his practice primarily on litigation in the Delaware Court of Chancery and the Delaware Supreme Court. He handles complex corporate governance, corporate control, fiduciary duty, contractual, appraisal, and other commercial disputes. Matt also assists special committees of boards of directors in investigations relating to stockholder demands and whistleblower complaints. Matt is recognized in The Best Lawyers in America. He has a BA from Binghamton University and a JD from the University of Virginia School of Law.
Drew Sloan advises clients on Delaware alternative entity matters, with a particular focus on private equity funds and structured finance transactions. He provides counsel and legal opinions in connection with a wide range of formation, operational, and governance matters involving Delaware partnerships and limited liability companies. Drew serves on the board of directors of the American Red Cross of the Delmarva Peninsula. He earned a BA, with honors, from Rutgers University and a JD from Villanova University School of Law.
Jake Crosetto focuses on a broad range of transactional matters, with an emphasis on transactions involving Delaware entities. He assists with numerous aspects of structured finance transactions and advises on secured transactions, debtor-in-possession lending, mergers and acquisitions, and venture capital investments. Jake received a BA, cum laude, from Lycoming College and a JD from Temple University School of Law.
About Richards, Layton & Finger
Delaware's largest law firm and one of its oldest, Richards, Layton & Finger helps sophisticated clients navigate complex issues and the intricacies of Delaware law. We advise global companies, business partnerships, leading financial institutions, local businesses, and individuals across a wide range of practices, including corporate law, alternative entities, commercial law, bankruptcy and restructuring, and litigation.