Richards, Layton & Finger is committed to recruiting the finest lawyers, nurturing their talents, and helping each member of our community to share the best of who they are for the benefit of our firm, our clients, and our community. Diversity and inclusion are essential to this commitment.
Richards Layton's commitment to diversity has been evident from the start. We were the first major Delaware law firm with a female partner, an African American partner, and a South Asian partner, and one of the first with a Hispanic partner. Today, our senior leadership includes our President Lisa Schmidt and our Immediate Past President Doneene Damon, who was the first African American woman to serve as president of a major Delaware law firm.
Click here to view our firm's Diversity & Inclusion Annual Report FY 2022.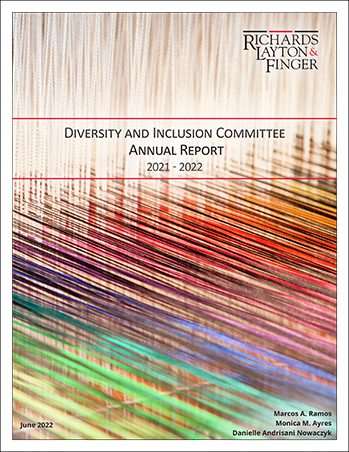 Richards Layton participates in and supports a variety of local organizations that share our dedication to advancing underrepresented groups in the legal profession. Our memberships and sponsorships include
the Leadership Council on Legal Diversity, through which we offer a 1L LCLD Scholars Program;
the Minority Corporate Counsel Association;
the Multicultural Judges & Lawyers Section of the Delaware State Bar Association;
the LGBTQ+ Section of the Delaware State Bar Association;
the Women & the Law Section of the Delaware State Bar Association;
the Delaware Barristers Association;
the South Asian Bar Association of Delaware;
the Delaware Minority Job Fair; and
pipeline programs supporting the entry of diverse candidates into the legal profession.
Our Women's Initiative organizes and sponsors various programs aimed at enhancing the professional lives of our attorneys, including inspirational women (and other) speakers, community service engagements, and networking events to help introduce our women attorneys to our clients and more broadly within our profession.
As a firm, we support our employees as they engage with our local, state, and other communities.
Our attorneys played a key role in the passage of Delaware's marriage equality bill.
One of our attorneys was a co-founder of the Delaware Hispanic Bar Association.
One of our attorneys is on the board of Equality Delaware.
Another firm attorney served on the board of trustees of the Lawyers Committee for Civil Rights under the Law.
A Richards Layton attorney serves on the Delaware Advisory Committee of the U.S. Commission on Civil Rights and on the board of directors of the ACLU of Delaware.
At Richards Layton, diversity and inclusion are core institutional commitments. We know that talent comes in every form, and working in an inclusive manner enhances our firm, our lawyers, our clients, and our community.