28 Richards, Layton & Finger Practices Honored in Best Lawyers' "Best Law Firms" Rankings
November 2, 2023
Firm News| Banking| Bankruptcy & Corporate Restructuring| Commercial Litigation| Commercial Transactions| Corporate & Chancery Litigation| Corporate Governance| Corporate Transactions| Corporate Trust & Agency Services| Environmental| Fiduciary Litigation| Intellectual Property| Labor & Employment| Limited Liability Company & Partnership Advisory| Mergers & Acquisitions| Real Estate Services| Special Committees & Investigations| Structured Finance| Tax| Trusts & Estates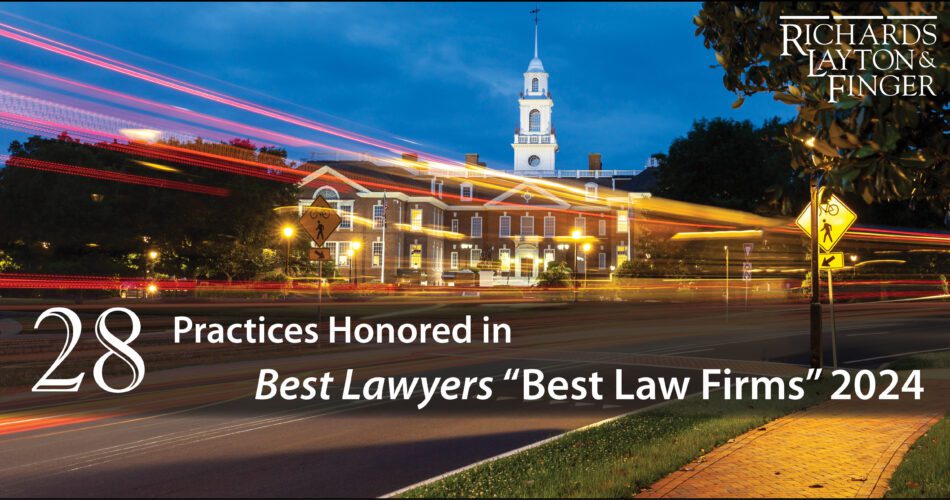 WILMINGTON, Delaware (November 2, 2023) – Richards, Layton & Finger has been recognized for excellence in 28 practice areas in Best Lawyers' 2024 "Best Law Firms" rankings, including receiving the survey's top Tier 1 ranking in 24 practice areas.
Richards Layton has more practices listed in the "Best Law Firms" Delaware rankings, and more practices ranked in Tier 1, than any other firm in the state. Two of the firm's practices—Mergers & Acquisitions Litigation and Securitization and Structured Finance Law—also achieved national ranking.
"I'm honored that Best Lawyers continues to recognize the outstanding legal services we provide," says Lisa Schmidt, president of Richards Layton. "We're committed, every day, to delivering exceptional counsel and innovative solutions to our clients across a wide range of practice areas. We're proud of the work we do, both for our clients and in our community."
Delaware Tier 1
Appellate Practice
Banking and Finance Law
Bankruptcy and Creditor Debtor Rights / Insolvency and Reorganization Law
Bet-the-Company Litigation
Business Organizations (including LLCs and Partnerships)
Commercial Litigation
Copyright Law
Corporate Governance Law
Corporate Law
Environmental Law
Litigation – Bankruptcy
Litigation – Environmental
Litigation – Intellectual Property
Litigation – Labor & Employment
Litigation – Mergers & Acquisitions
Litigation – Patent
Litigation – Trusts & Estates
Mergers & Acquisitions Law
Patent Law
Real Estate Law
Securities / Capital Markets Law
Securitization and Structured Finance Law
Tax Law
Trusts & Estates Law
Delaware Tier 2
Commercial Transactions / UCC Law
Labor Law – Management
Privacy and Data Security Law
Delaware Tier 3
Financial Services Regulation Law
About Richards, Layton & Finger
Delaware's largest law firm and one of its oldest, Richards, Layton & Finger helps clients navigate complex issues and the intricacies of Delaware law. We advise global companies, business partnerships, leading financial institutions, local businesses, and individuals across a wide range of practices, including corporate law, alternative entities, commercial law, bankruptcy and restructuring, and litigation.