Richards, Layton & Finger Attorneys Accepted into LCLD Fellowship and Pathfinder Programs
February 13, 2023
Firm News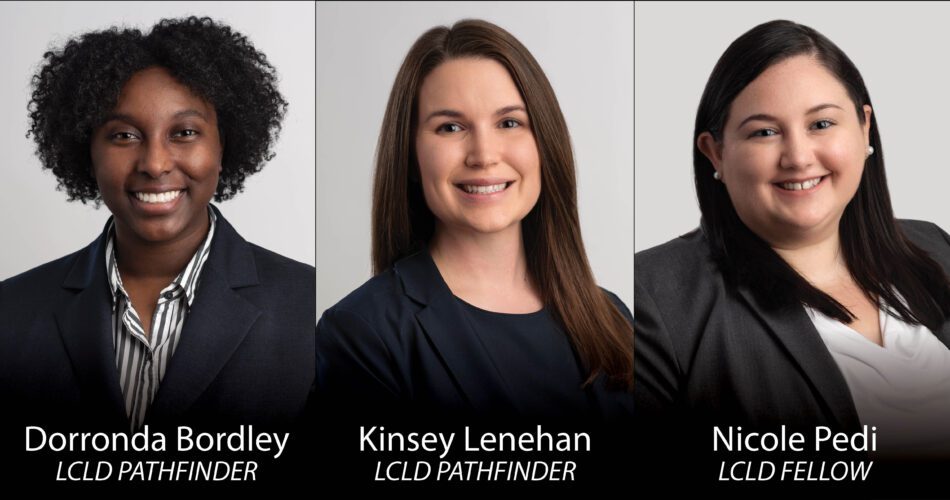 WILMINGTON, Delaware (February 13, 2023) – Richards, Layton & Finger is pleased to announce that Nicole Pedi has been accepted into the 2023 Leadership Council on Legal Diversity (LCLD) Fellows Program, and Dorronda Bordley and Kinsey Lenehan have been accepted into the 2023 LCLD Pathfinders Program. The LCLD developed these programs to recognize diverse attorneys and to serve as a platform for the attorneys' professional growth. The Fellows Program, designed for mid-career attorneys, and the Pathfinder Program, for early-career attorneys, offer tools and strategies focused on professional and personal development, relationship-building, and leadership training.
As a member of the LCLD, Richards Layton actively supports the organization's goal to create a more diverse and inclusive legal profession in the United States. The firm participates in the LCLD's 1L Scholars Program, under which Richards Layton hires, for its summer associate program, first-year diverse students who share the firm's dedication to furthering the inclusion of underrepresented groups in the legal profession. Richards Layton attorneys also participate in the LCLD's Success in Law School Mentoring Program, serving as mentors to diverse 1L students.
"We are so proud that Nicole, Dorronda, and Kinsey have been selected for these prestigious LCLD programs," said Lisa Schmidt, president of Richards Layton and the firm's LCLD representative. "These young lawyers not only produce top-notch work at our firm, but they've also demonstrated an exceptional commitment to service in the community. I'm thrilled that they have the opportunity to continue to learn and grow through their participation in the LCLD."
Dorronda Bordley focuses on commercial and intellectual property litigation in Delaware's state and federal courts. She serves on the board of TeenSHARP, a nonprofit organization that works to prepare Black, Latino, and low-income students for top colleges and community leadership. Dorronda is a member of the Rodney Inn of Court and was a mentor through the Big Brothers Big Sisters of Delaware. Before joining the firm, she served as an AmeriCorps VISTA veterans unit coordinator. At William & Mary Law School, Dorronda was secretary of the W.C. Jefferson Chapter of the Black Law Students Association and editor-in-chief for The Comparative Jurist.
Kinsey Lenehan focuses her practice on transactional and advisory matters involving structured finance transactions, investment funds, and the formation, structuring, operation, and dissolution of Delaware alternative entities, including limited liability companies and partnerships. Kinsey is deeply involved in the Junior League of Wilmington, a nonprofit organization focused on improving the lives of adolescent girls in the greater Wilmington area. She is also on the Development Committee of the Ronald McDonald House of Delaware. Kinsey has served as a mentor through the Big Brothers Big Sisters of Delaware. In law school, she was managing editor for the Kansas Journal of Law and Public Policy.
Nicole Pedi handles commercial and intellectual property disputes, litigating contract, fraud, noncompete, trade secret, patent, and trademark infringement claims in Delaware's state and federal courts. She also dedicates a significant amount of time to serving as a pro bono attorney in family court. Nicole is one of four lawyers nationwide chosen for the 2022-2024 Young Lawyer Leadership Program of the American Bar Association's Section of Litigation, and she is listed among The Best Lawyers in America's "Ones to Watch." In law school, Nicole was an editor for the Villanova Law Review and argued in Villanova's Moot Court Competition, where her team won first place and she was selected as the best oralist. Her numerous law school honors include Villanova's Leadership and Scholarship Award.
About Richards, Layton & Finger
Delaware's largest law firm and one of its oldest, Richards, Layton & Finger helps sophisticated clients navigate complex issues and the intricacies of Delaware law. We advise global companies, business partnerships, leading financial institutions, local businesses, and individuals across a wide range of practices, including corporate law, alternative entities, commercial law, bankruptcy and restructuring, and litigation.