Richards, Layton & Finger Attorneys Named Among Lawdragon 500 Leading Lawyers
October 24, 2023
Firm News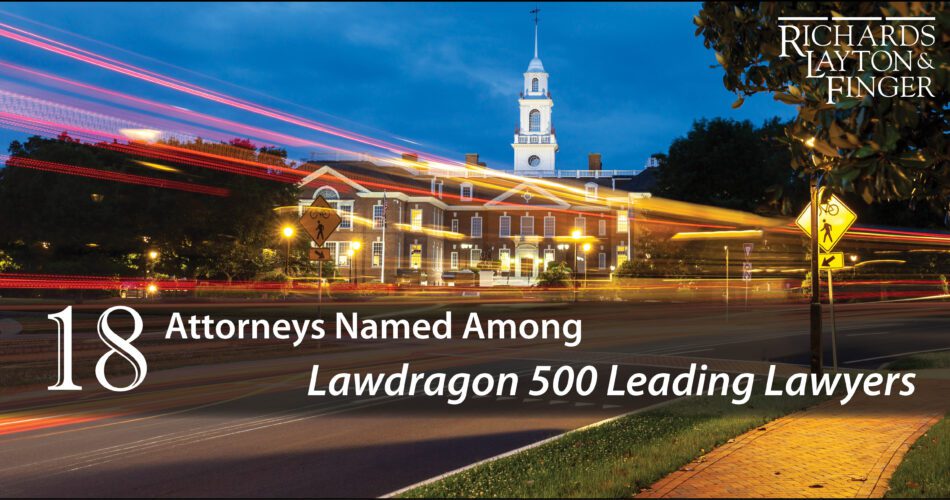 WILMINGTON, Delaware (October 24, 2023) – Eighteen Richards, Layton & Finger attorneys have been named in four Lawdragon 500 guides.  Lawdragon, a legal media company providing online news and features, annually selects 500 Leading Lawyers in guides identifying the nation's foremost lawyers in specific practice areas.
The practice area guides and the Richards Layton lawyers recognized in them are:
Lawdragon 500 Leading Bankruptcy Lawyers
Mark D. Collins
Daniel J. DeFranceschi
Kevin Gross
Lawdragon 500 Leading Dealmakers
C. Stephen Bigler
Catherine G. Dearlove
Mark J. Gentile
John Mark Zeberkiewicz
Lawdragon 500 Leading Environmental Lawyers
Lawdragon 500 Leading Litigators
Frederick L. Cottrell
Catherine G. Dearlove
Raymond J. DiCamillo
Steven J. Fineman
Anne C. Foster
John H. Knight
Michael J. Merchant
Jeffrey L. Moyer
Srinivas M. Raju
Lisa A. Schmidt
Gregory P. Williams
About Richards, Layton & Finger
Delaware's largest law firm and one of its oldest, Richards, Layton & Finger helps sophisticated clients navigate complex issues and the intricacies of Delaware law. We advise global companies, business partnerships, leading financial institutions, local businesses, and individuals across a wide range of practices, including corporate law, alternative entities, commercial law, bankruptcy and restructuring, and litigation.