36 Richards, Layton & Finger Attorneys Ranked in Chambers USA
June 1, 2023
Firm News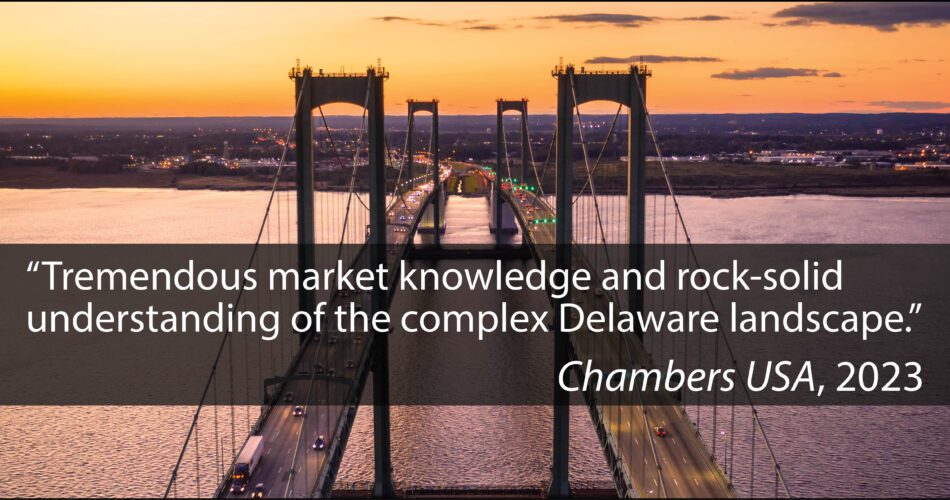 WILMINGTON, Delaware (June 1, 2023) – Thirty-six Richards, Layton & Finger attorneys have been recognized for preeminence in their fields by Chambers USA, one of the world's most respected legal directories. "A pillar of the Delaware bar" (Chambers USA, 2023), Richards Layton has more attorneys listed in Chambers, and more ranked in Band 1, than any other Delaware firm.
In addition to the attorney rankings, Chambers has recognized six of the firm's practice areas for excellence, with our Bankruptcy/Restructuring, Chancery, Corporate/M&A & Alternative Entities, Intellectual Property, and Real Estate practices all receiving the guide's highest Band 1 ranking.
Clients report that our attorneys have "tremendous market knowledge and rock-solid understanding of the complex Delaware landscape," noting that they rely on the firm's "clear and reasoned advice in even the most complicated circumstances" (Chambers USA, 2023).
"Extremely knowledgeable and always available" (Chambers USA, 2023), the Richards Layton attorneys recognized in Chambers are:
Bankruptcy/Restructuring
Mark Collins
Daniel DeFranceschi
Paul Heath
John H. Knight
Michael Merchant
Zachary Shapiro
Russell Silberglied
Robert Stearn Jr.
Amanda Steele
Chancery
Robert Burns
Catherine Dearlove
Raymond DiCamillo
Kevin Gallagher
John Hendershot
Rudolf Koch
Blake Rohrbacher
Lisa Schmidt
Gregory Williams
Corporate/Alternative Entities
Paul Altman
Doneene Damon
Bernard Kelley
Gregory Ladner
Elisa Erlenbach Maas
Eric Mazie
Srinivas Raju
Corporate/M&A
Michael Allen
Stephen Bigler
Mark Gentile
William Haubert
Stephanie Norman
John Mark Zeberkiewicz
Intellectual Property
Fred Cottrell
Kelly Farnan
Travis Hunter
Labor & Employment
Real Estate
About Richards, Layton & Finger
Delaware's largest law firm and one of its oldest, Richards, Layton & Finger helps clients navigate complex issues and the intricacies of Delaware law. We advise global companies, business partnerships, leading financial institutions, local businesses, and individuals across a wide range of practices, including corporate law, alternative entities, commercial law, bankruptcy and restructuring, and litigation.